Julie Canlis joins WCPPC for the first time.
Julie Canlis was raised in Seattle, graduating from the University of Washington with a degree in the Comparative History of Ideas. After marrying her childhood sweetheart, Matt, they together studied at Regent College (Vancouver, BC) where her degree in Spiritual Theology led her to pursue a PhD at the University of St Andrews. This work was published as Calvin's Ladder (2010) which grapples with Calvin's vision for the way humanity 'becomes itself' by participating in Christ. It was the Christianity TodayAward of Merit for Theology in 2011.
After finishing her thesis in 2005, Julie stayed at home with their four children while Matt began ministry in the Church of Scotland. She studied in fits and starts, publishing along the way, and giving Templeton lectures in Greece, Hungary, England, Canada, and America, thanks to her winning the 2007 Templeton Prize for Theological Promise. She teaches Summer School at Regent College, but for the most part can be found teaching Sunday School in Methlick Parish Church, where Matt is minister. She enjoys junk sales, loves her chickens (and children – Madeleine, Chapman, Iona, Caitlin), and is committed to slow food and slow church.
Julie is the author of Calvin's ladder published by Eerdmans.  You can read the description below:
DESCRIPTION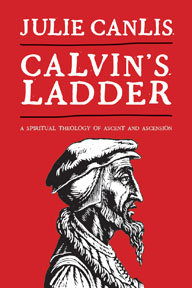 This groundbreaking study offers a sweeping overview and reconsideration of John Calvin's theology. In Calvin's Ladder Julie Canlis recovers some of the common (and neglected) themes that Calvin shared with the patristic fathers. She shows that his works are shot through with a vibrant theology of "participation," thus placing Calvin within the Christian mystical tradition.
A work of both theology and spiritual formation, Calvin's Ladder suggests an entirely distinctive way of conceiving the relation between God and humanity, challenging not only old caricatures of Calvin but also our own self-portraits.
AWARDS and RECOGNITIONS
Templeton Foundation, John Templeton Award for Theological Promise (2007)
Christianity Today, Award of Merit in Theology and Ethics (2011)
Further Reading on Julie Canlis